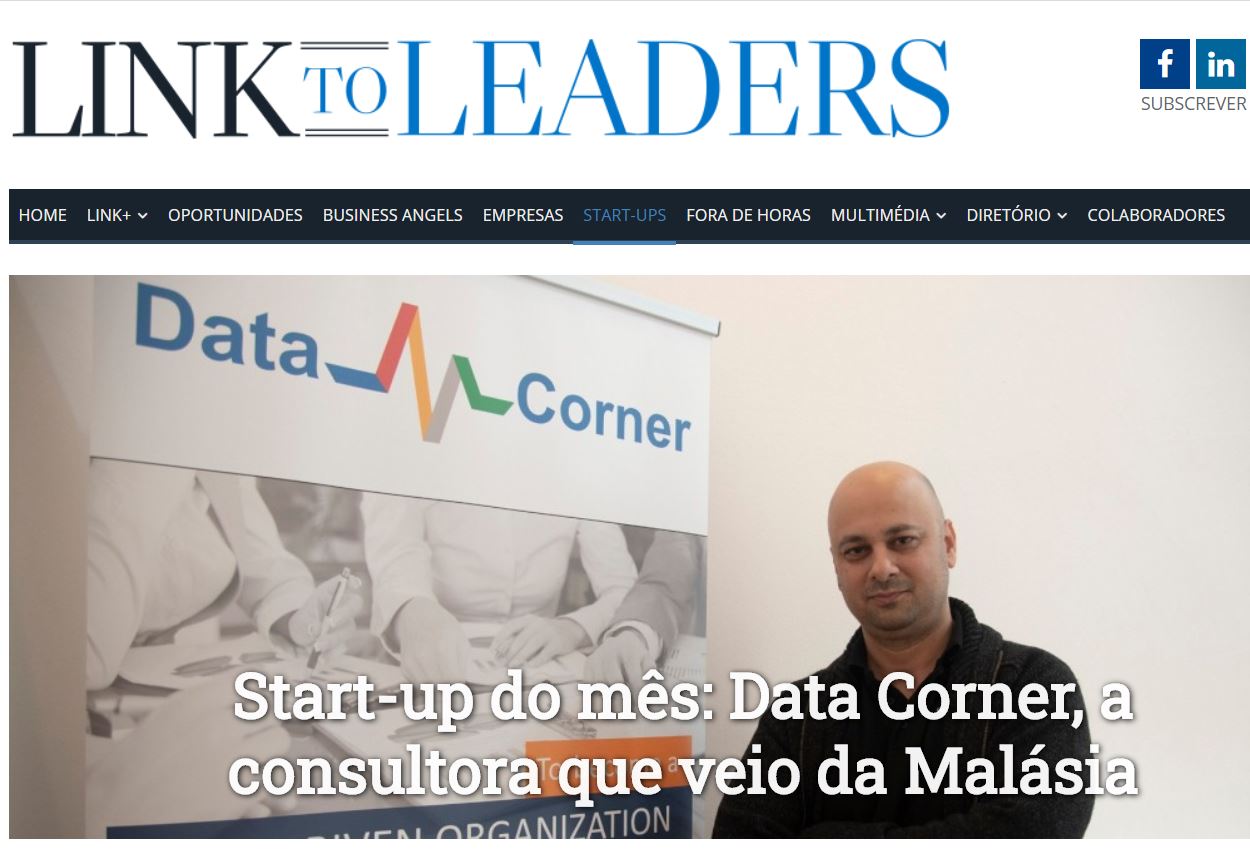 Data Corner: StartUp of the Month
Selected by LinkToLeaders as the StartUp of the month
Data analysis consultant is one of the international projects hosted by the business ideas incubator of the Polytechnic Institute of Setúbal - IPStartUP, which elected her as the start-up of the month under the Link To Leaders heading.
Start-up name: Data Corner
Founder: Ali Rohani
Activity: Managing gigantic volumes of data and being able to extract relevant information for strategic decision-making is currently one of the major headaches for companies. Already dubbed "21st century oil", the Big Data phenomenon, which refers to the unimaginable amount of information that we exchange daily in a world connected by the Internet, is also, increasingly, a business opportunity. Vala Ali Rohani, founder of Data Corner, one of the companies incubated at IPStartUP , realized this even more or less five years ago, still in Kuala Lumpur, Malaysia, as responsible for Data Analysis projects at two large companies.
An Iranian by birth, the data scientist, with a PhD in Computer Science and more than 10 years of academic career, decided to create a start-up, which quickly gained dimension and ambition for international flights.
Portugal came about following an application for StartUP Visa, a program to welcome foreign entrepreneurs promoted by IAPMEI - Agency for Competitiveness and Innovation . And Setúbal was the choice among the five national incubators that showed interest in the project. Especially because of the uniqueness of the "academic environment" in which it is inserted and in which the researcher would naturally feel at home, but also because it is a region of strong industrial fabric, with important companies such as Volkswagen Autoeuropa and Navigator. "I realized that it was a great opportunity to have the collaboration of higher education and also the industry", remembers Vala Ali Rohani.
Why it deserves to be highlighted: "Registered in Portugal since May 1, 2019, Data Corner is celebrating its first year in the IPStartUP incubator with frankly promising results. It raised two important clients, became an official member of the European network EEN - Enterprise Europe Network, and plans, throughout 2020, to hire two full-time employees among the students of the IPS that it welcomed for internship ", explains the ideas incubator of Polytechnic Institute of Setúbal.
For the company, which has already arrived with its product created and ready, the role of IPStartUP has been decisive at other levels. Not only in supporting the bureaucratic procedures necessary to set up the business, but also, and above all, in the presentation of Data Corner to the Portuguese market. "The contact for a first meeting with the country manager of LPR - La Palette Rouge [multinational logistics company], a graduate from here, was facilitated by IPS. After two, three meetings, we signed a contract ", underlines Vala Ali Rohani, explaining that it was possible to reduce customer costs by 22%, with a proposal to optimize its logistics network based on the company's data history. "Through data analysis and mathematical models, applied to last year's transactions, we arrived at the best locations for the company's warehouses in Portugal ", says the founder of data Corner. A solution that, he adds, meanwhile has already aroused the interest of other European subsidiaries of the multinational.
Through IPStartUp, Data Corner also had the opportunity to present its services to companies in the region at a conference, having established contact with one of its current partners, Passio Consulting, a Business Intelligence consultant who lacked a team at the area of ​​data analysis.
Other relevant information: In the future, the incubator intends to strengthen relations with the industrial fabric of the Setúbal peninsula and also reinforce the dissemination of its services in the area of ​​training in data analysis. With its team of academics and data scientists, Data Corner regularly promotes workshops in countries such as Australia, Thailand and Malaysia, where it is headquartered, offering to do the same in Portugal, which "would be easier for us and cheaper for Portuguese customers ", concludes Vala Ali Rohani.
Source: https://linktoleaders.com/start-up-do-mes-data-corner-a-consultora-que-veio-da-malasia/